We are situated in the heart of the Rheintal, a beautiful part of Switzerland. Surrounded by mountains and the Rhein, we have glorious views and are also easily accessible within the region.
New Campus now open
ISR is proud to announce that we have started the school year 2023/ 2024 in our modern and sustainable, purpose-built three-story building, designed by Zurich architects of Kämpfen Zinke + Partner. The new campus is a generous donation of the Hilti Family Foundation Liechtenstein.
Enjoy an insight into the new ISR Campus with this video. This was produced by the HILTI Group and gives great insights into the campus and the benefits of an international school in the Rheintal Region.
Features of the new ISR School Campus
Focus on sustainability
By using ecological materials and due to its sustainable energy concept, students are naturally invited to consider and become enthusiastic about sustainability.
Wooden ecological-designed building
1000m2 roof terrace with photovoltaic panels
Indigenous planting in outside areas to promote biodiversity
Compound ventilation system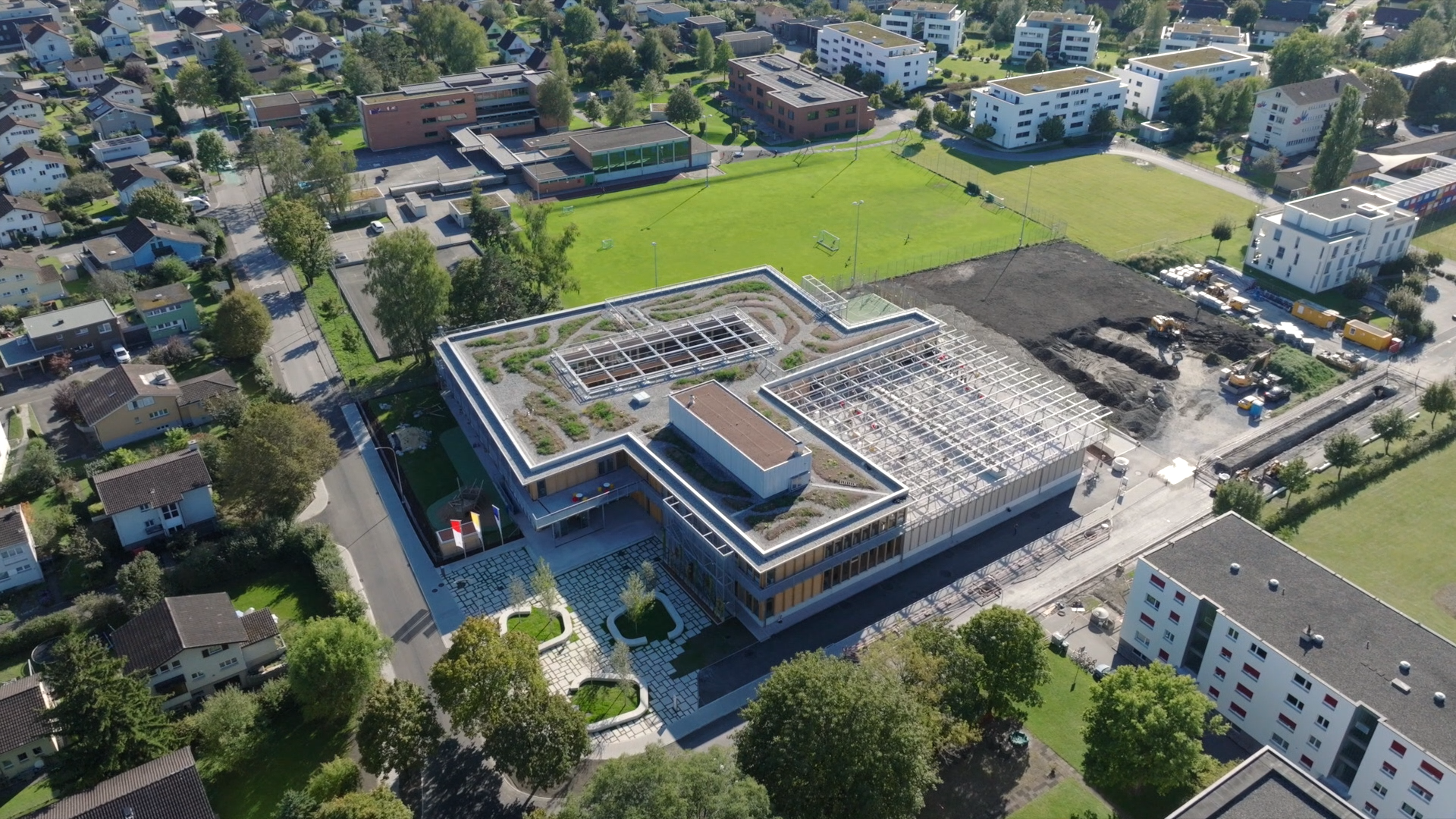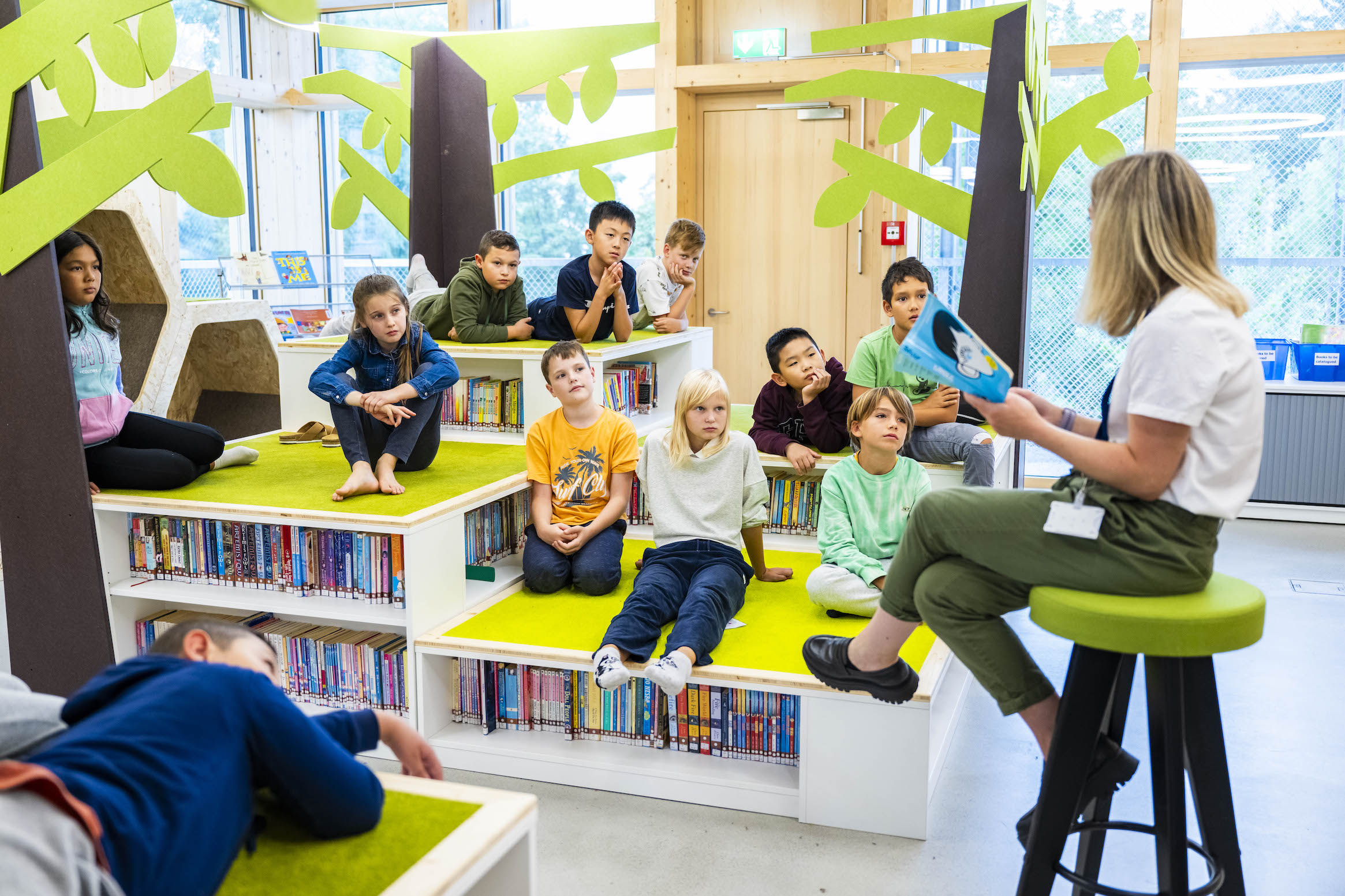 Versatile learning landscapes
All learning areas are adapted to the learning and teaching needs of our staff and students in different age groups.
High light-flooded classrooms with access to the outdoors
Phased learning areas between Kindergarten & PYP, and MYP & DP
3 science laboratories
2 full-sized gymnasiums with a stage for assemblies and performances
Specialist art and design studio
Designated music, drama and practice rooms
Learning Hub & Learning Zone
Over 40 classrooms and learning spaces
A warm welcome
The atrium, stretching from the ground floor to the roof, allows for natural light and a calming atmosphere throughout the building.
Generous Entrance Area
Underground parking
Live Drop-Off zone
High-security concept throughout the school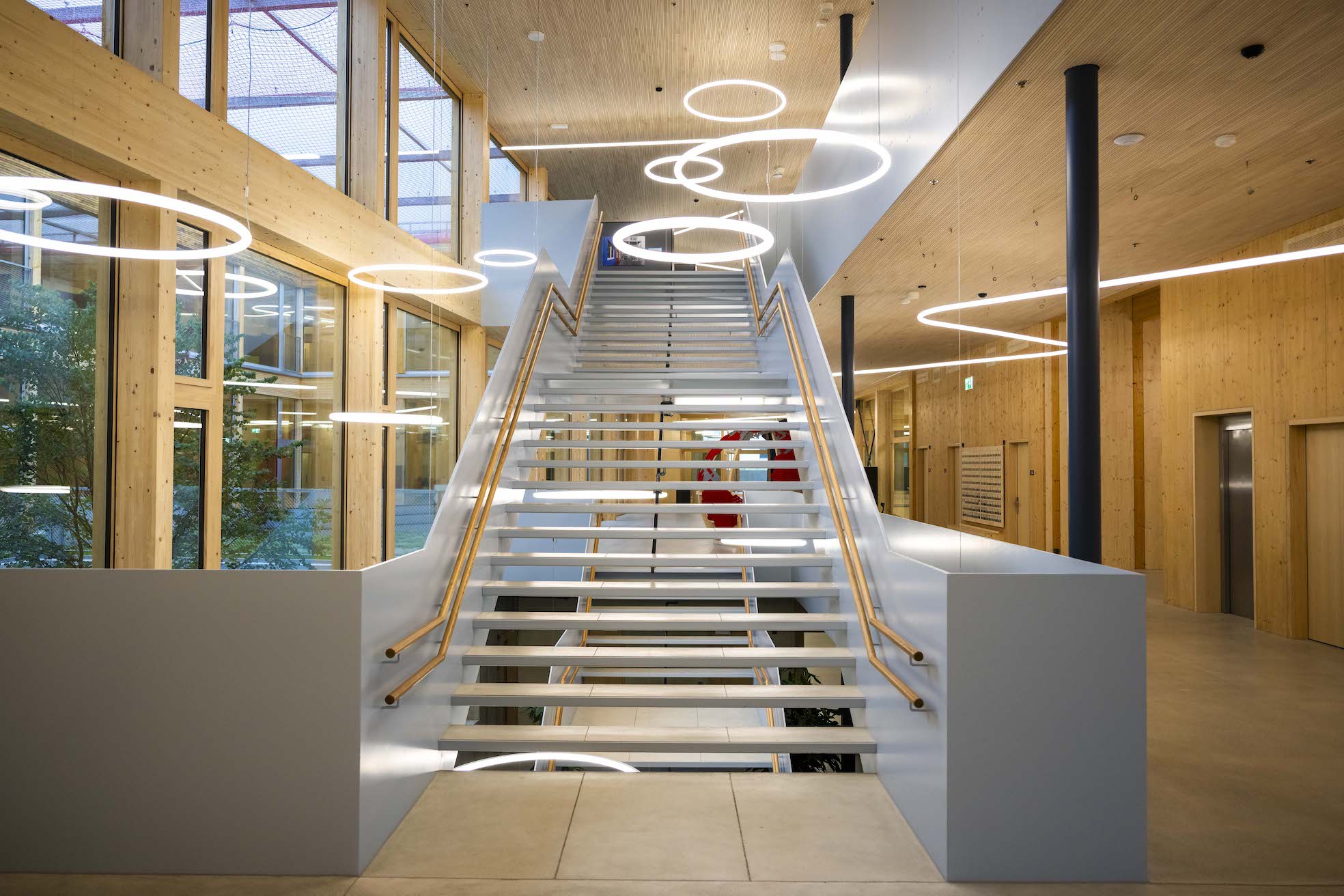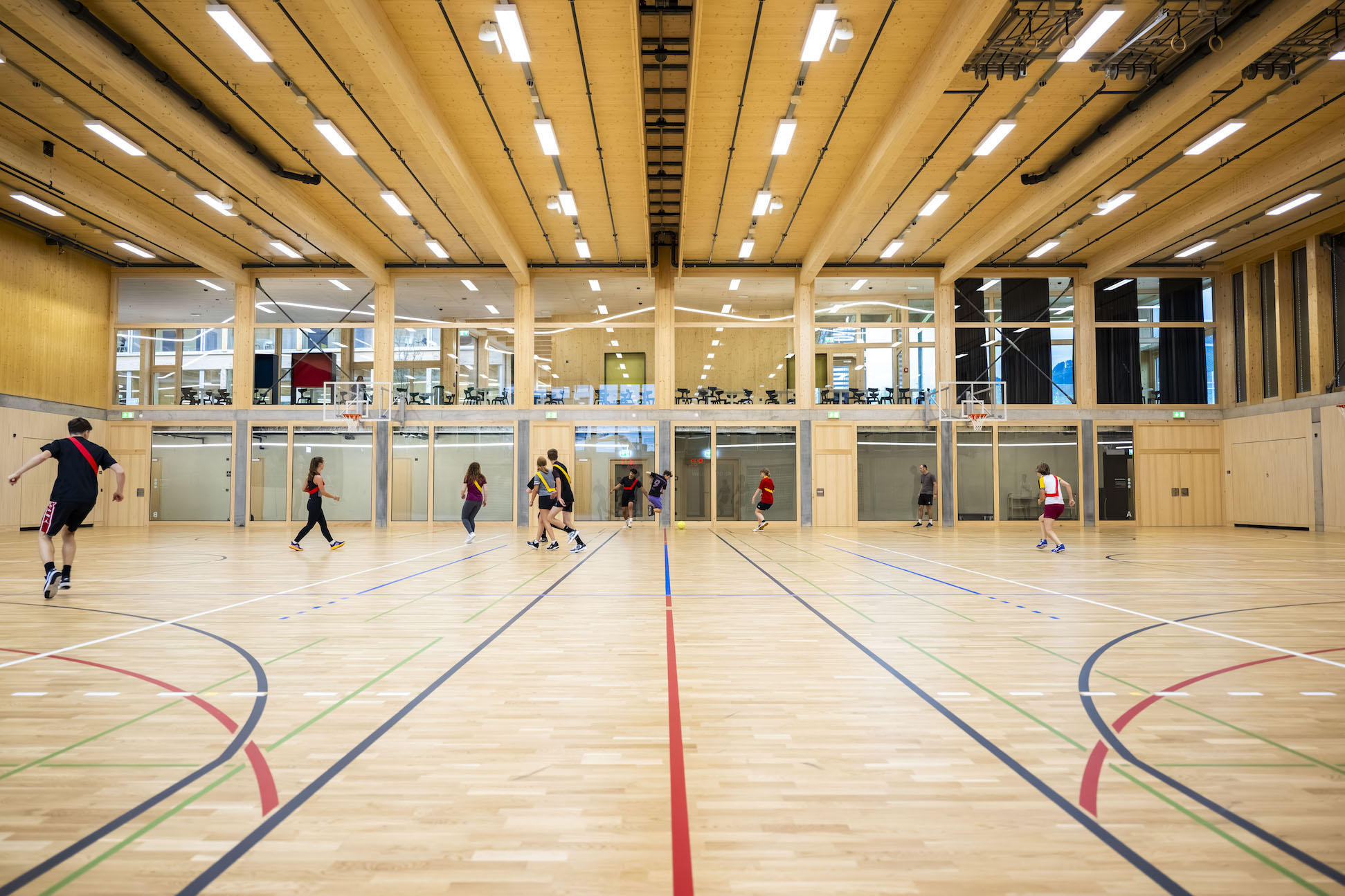 Coming together
The new campus promotes community by design - for ISR students and also for the Buchs community while providing a high level of security for our students and staff.
Multiple lunch and break areas

Shared use of sports field with Hanfland School

Shared usage of the gymnasiums with the community of Buchs

Part of the newly planned Hightech Campus Buchs alongside the bzbs and OST.
Our facilities include
Access to the outside from every PYP classroom
Three science labs
A design & art atelier
A fitness suite with modern facilities
Two music studios
A well-equipped music and drama room
Quiet learning areas for senior students
A calm room
A competition-sized double gymnasium with event stage that is shared with the city of Buchs
A school learning hub & library
Separate lunch areas for primary and senior students
1'000 m2 roof terrace with solar panels
Outdoor lunch areas
For swimming and physical education, we make use of local sporting facilities
Purposeful-built outdoor playground, water zone and own pirate ship for our younger students
---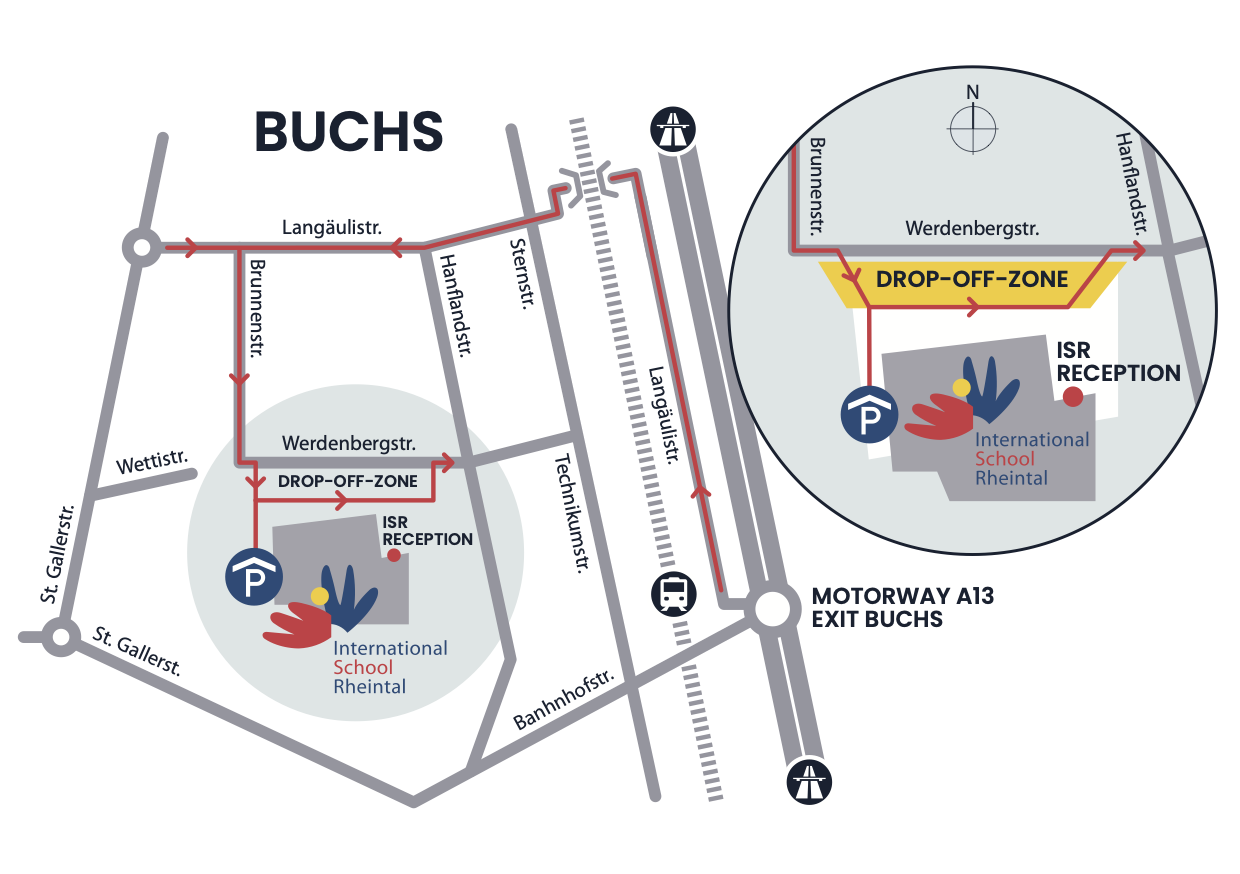 Location
The school is located close to Liechtenstein, 65 km from the City of St. Gallen and is approximately 120 kilometres from Zurich. The school is easily accessible by public transport. A school bus service connects the town of St. Gallen and the school. For our full contact details, please visit our contact page.
Our address:
International School Rheintal
Werdenbergstrasse 17
CH-9470 Buchs